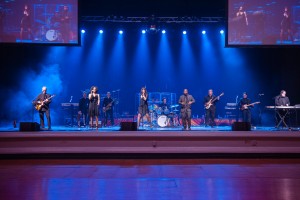 Cityscape is a vocal powerhouse with a total of 5 front singers who cover every style of music from a multitude of generations. Their set list has all of the best of each genre of music and features cutting edge repertoire rarely, and in some cases NEVER heard performed in a live setting. The band is available in a 10pc dance band format or an elaborate Dance Orchestra Format that can range from 21-40 pieces.
Meet each of our performers on the Artist Biographies page.
Here is a little more about the band:
Peter Hewlett, nominated for several EMMY AWARDS, has previously been signed by RCA, Polygram, and Epic Record companies. He has recorded and toured with Billy Joel, Elton John, Andrew Lloyd Weber, Carly Simon, James Taylor and James Brown.
Juan Vasquez is a multi-dimensional performer who can cover such a wide range of repertoire that it's vitually impossible to pigeon-hole him into any specific category. He can effortlessly move between soulful ballads, high-energy rapping and dazzling displays of classic rock interpretations.
Maria Becoates-Bey was voted Performer of the Year for her performances in the musical theater arena. Maria has appeared in Musicals such as The Wiz, Tin Types, Constant Star, The Goodbye Girl, Beehive, Hair and Jesus Christ Superstar. In addition to Theatre, Maria has appeared in films such as Renegade Force, Iron Maze and Hammerlock and has starred in several commercials.
In addition to being the voice of many television and radio commercials (Eat n' Park, Chevrolet and Wendy's), Lisa Bleil was featured on PBS television's "All-Star Holiday Jam" as well as the nationally televised "Rock, Rhythm and Doo-wop" and "Red, White and Rock", performing with Frankie Avalon, Connie Francis and Frankie Valli, among others.
Scott Anderson is an Emmy Award-winning composer, music director, producer, and of the Pittsburgh region's most sought-after keyboard players. Scott received an Emmy award in 2006 for his work composing the score for the award-winning documentary Lessons from The Holocaust." In 2007 he won BOTH an Emmy and a Telly award for his work as music director and co-producer of "Live From Studio A: American Standards."
Scott was also nominated for Emmy awards in 2003 and 2004 for his work as Music Director of PBS's "Live From Studio A" television show.
Producer, Nick Dialoiso, has an extensive performing and producing career that earned him a Senate Award for excellence in the arts. Nick's exclusive list of clients include Major League Baseball, The NFL, The Cleveland Clinic, and many Fortune 500 companies. Nick was personally invited to meet with top executives from the William Morris Agency at their headquarters in Beverly Hills to negotiate the production of an internationally touring corporate events band for the company. Nick has worked on music scenes for several major motion pictures for Paramount and Columbia Pictures.
Lead Guitarist Steve Delach has been profiled in Guitar World and Guitar for the Practicing Musician magazines. Which led to recording a track for Mark Varney's "Guitar on the Edge" project, which also featured Brett Garsed, Allan Holdsworth, Shawn Lane, and Carl Verheyen. Steve has authored three books published by Mel Bay: Getting into Rock Guitar, The Rock Guitar Workout and Altered States: Applying Diminished and Whole Tone Concepts to Rock Guitar.